Your baby's well-being is our priority
Your baby's well-being is our priority
A safe crib is one that has been purchased new and certified by the manufacturer as compliant with CPSC requirements through 3rd party testing and ASTM. Any used cribs that were produced prior to the release of the new crib safety regulations on June 28, 2011 may not meet these standards and can prove to be dangerous for your child, especially in the event of improper storage and maintenance.
ALL cribs manufactured and sold (including resale) must comply with new and improved federal safety standards (16 CFR 1219, the new federal standard for full-size cribs or with 16 CFR 1220, the new federal standard for non-full-size cribs). The new rules, which apply to full-size and non-full-size cribs, prohibit the manufacture or sale of traditional drop-side rail cribs, strengthen crib slats and mattress supports, improve the quality of hardware and require more rigorous testing. The details of the rules are available on CPSC's website at www.cpsc.gov
CPSC mandated label on cribs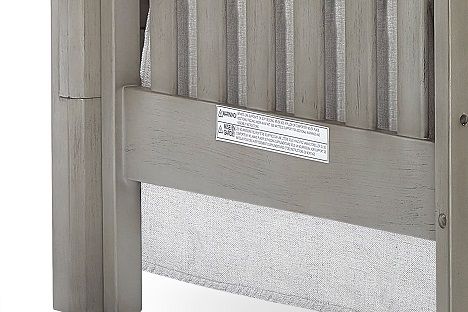 At the DOM Family, providing our customers and their families with the safest nursery furniture built from the best quality materials is our No.1 priority. We are committed to adhering to all state and federal safety standards and regulations. All of our cribs and toddlers beds are JPMA certified and meet or exceed CPSC standards.
Baby products manufactured in accordance with new mandatory Federal safety regulations must be conspicuously labeled according to the U.S. Consumer Product Safety Commission (CPSC). All of our products are labeled according to these regulations, and we encourage our customers to read the safety instructions printed and NOT remove the labels.
Every crib sold today, regardless of the retailer, must comply with these new regulations; all retailers are now required to sell only cribs that meet these safety standards.
All DOM Family products: cribs, toddler beds, cradles and mattresses are fully in compliance.
Proper Maintenance and Storage of Cribs
When properly cared for, cribs are intended to last for years. To ensure the safety of your crib for current and future use follow these guidelines:
When storing your crib for future use, save the instructions and keep them with the crib. Often manufacturers post or attach instructions to the mattress platform so that they are easy to find when the crib is re-assembled for later use. If you misplace your instructions, call respective brands support @ 732-752-7220
When storing your crib, keep all parts, together and labeled for future assembly.
Do not try to repair the crib without manufacturer-approved hardware.
Don't substitute parts.
Guideline on buying a full size crib
The mattress size should be at least 27 1/4"x 51 5/8", and should not be more than 6 inches thick. The mattress should be of such length and width that the gap between the mattress and the sides of the crib is not more than 1-3/16 inches when the mattress is pushed into the corner of a full size crib.
Slats no more than 2 3/8 inches apart: Your crib should have slats that are close enough together to prevent your baby's head from slipping through or getting stuck. The distance between the crib slats must be no more than 2 3/8 inches (about the size of a soda can).
Safe corner posts: If the crib has corner posts, they should be no higher than 1/16 of an inch (unless they're over 16 inches high to support a canopy). If corner posts are higher than 1/16 of an inch, clothing can catch on them and injure or choke an infant.
Adjustable mattress height: Most cribs let you change the height of the crib mattress by simply raising or lowering the mattress support. The time to lower the mattress is when your child begins sitting up. As kids get more active and move to pulling up and standing, you don't want them to climb or fall out of the crib.
When a crib is assembled to the manufacturer's instructions and used properly, it provides a safe and comfortable environment for baby. To ensure a proper lifespan, follow these tips:
Infants should ALWAYS sleep in a crib, which meets current Federal and ASTM standards. Pursuant to regulations promulgated in 2011, cribs with traditional drop-sides (traditional drop-sides mean sides that slide down rather than fold down) are not compliant with current Federal standards.
Crib assembly is best completed before the baby arrives to ensure there are no missing parts and the crib is in working order.
Read and follow all instructions and warnings provided with the crib. If the instructions are not clear or parts are missing, call the manufacturer or retailer. You can contact DOM Family respective brands @ 732-752-7220. Under no circumstances should substitute or makeshift hardware be used.
When disassembling a crib for storage, retain all the parts and instructions. Store parts and instructions in a Ziploc bag and tape to the bottom of the crib.
When reassembling a crib, be sure you have all the parts.
Do not substitute hardware.
Always send in the product registration card that comes with every new crib (we offer this service online as well). Returning the card ensures that the consumer will be notified if the crib is recalled. You can access respective brands registration card system here; by also checking the websites of the U.S. Consumer Product Safety Commission to see if your crib has been recalled.
Check the crib often for missing hardware, loose screws or anything out of the ordinary. A consumer could even make it part of the routine to inspect the crib every time the sheet is changed, which DOM Family recommends.